It is my honor to reach out to you today. Over 5 years ago I co-founded
River

for

Change
with a vision to connect people, communities, and organizations to
rivers
through Source to Sea Adventure and educational outreach. I am proud to say that our upcoming
Truckee River Project
is the embodiment of that vision.
Our goal is to raise $20,000 to help support 10 Student Ambassadors, all between the ages of 10 and 14, on this upcoming Environmental & Educational Program. Starting next week they'll join a Truckee River Source To Sea trip with a team of adults.
With this winter's record-breaking snowpack in the mountains, their journey from the Sierra foothills of California, across Lake Tahoe and on to Pyramid Lake in Nevada will be challenging. Along the route they'll make stops to visit schools & interact with local communities. This program has already visited over 750 school children in the Tahoe/Reno area educating students to change the way they look at water, to understand where it comes from, what it's used for and why water conservation is so important.
As a volunteer run organization your support enables
Rivers
for
Change
to run a campaign of this magnitude.
If it wasn't important we wouldn't ask. I hope you will join me in supporting the work of Rivers for Change by donating towards our $20,000 fundraising goal (every little bit really does help 🙂 or you can register to join us on the water or on shore!
Thank you so much! It's hugely appreciated by me, the entire RFC board and the kids that you're helping – Wyatt, Annsley, Laurel, Chloe, Beckley, Tobin, Harland, Quinn, Will & Alyssa.
Thank you!
Danielle Katz
RFC co-founder and Board President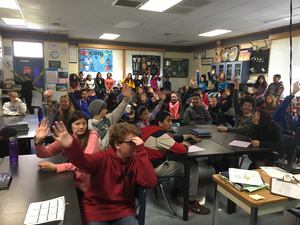 Support:
You can make a financial contribution in less than 60 seconds. Simply click on the link to our fundraising page and hit Give Now. Your support means the world.
https://www.grouprev.com/truckeesourcetosea
. All proceeds go directly to
Rivers
for
Change
and are tax-deductible.
When: June 2-11th, 2017
Where:
The Truckee
River
(from Source to (inland) Sea)-145 miles from South Lake Tahoe, CA to Pyramid Lake, NV.
Event Details:
June 3rd: Lake Tahoe Reach: paddle in a 6 man Outrigger Canoe or Bring your own craft!
June 6th: Truckee Reach: If you're an experienced Class IV kayaker you can join us on this reach.
June 7th: On land Fundraiser!
Meet the team, learn about the Truckee
River
, and join us for a raffle at 50/50 Brewery with Pizza and Beer!
June 8th: Reno Reach: Join us in a raft or in your own craft.
June 9th: Nature Conservancy Reach: Join us in a raft or in your own craft. Great section for complete beginners and kids!
If you can't join us in person please consider supporting the Fundraiser by going to
https://www.grouprev.com/truckeesourcetosea
and clicking Give Now. It will only take a minute and even $10 makes a world of difference.
---

Read

about 2 of our Student Ambassadors, Chloe and Annsley and why paddling, rivers and this trip are important to them!
Learn More About the Truckee River!
Gorge Downwind Champs-SUP, Surfskis, Outriggers
July 17th-22nd, 2017 – Hood River, OR

Rivers for Change is honored to be a beneficiary of this epic event! If you've yet to join in the fun, this is the year to do so and be sure to Register early-it will sell out!

http://www.gorgedownwindchamps.com/